Alamo
A charming town boasting rolling hills and panoramic views, Alamo is a lovely destination for those who enjoy a tranquil and lavish lifestyle. Many professionals, families, and retirees live here. Residents are affluent, schools are highly rated, properties are expansive, and living is laid back in Alamo.

Alamo is a charming suburb with many parks and country clubs to keep inhabitants entertained. For a beautiful hike and wildlife viewing, head to Diablo Foothills Regional Park, offering 1,600 acres of rolling grasslands, breathtaking mountains, and Pine Creek views. For a quaint location fit for a family day outdoors, relish the lush grass, barbecue grill, playground, sand volleyball court, and multi-use sports court at the 4.4-acre Livorna Park. Join the Diablo Country Club to revel in many amenities, including golfing, swimming, fitness, dining, and kid's Club services.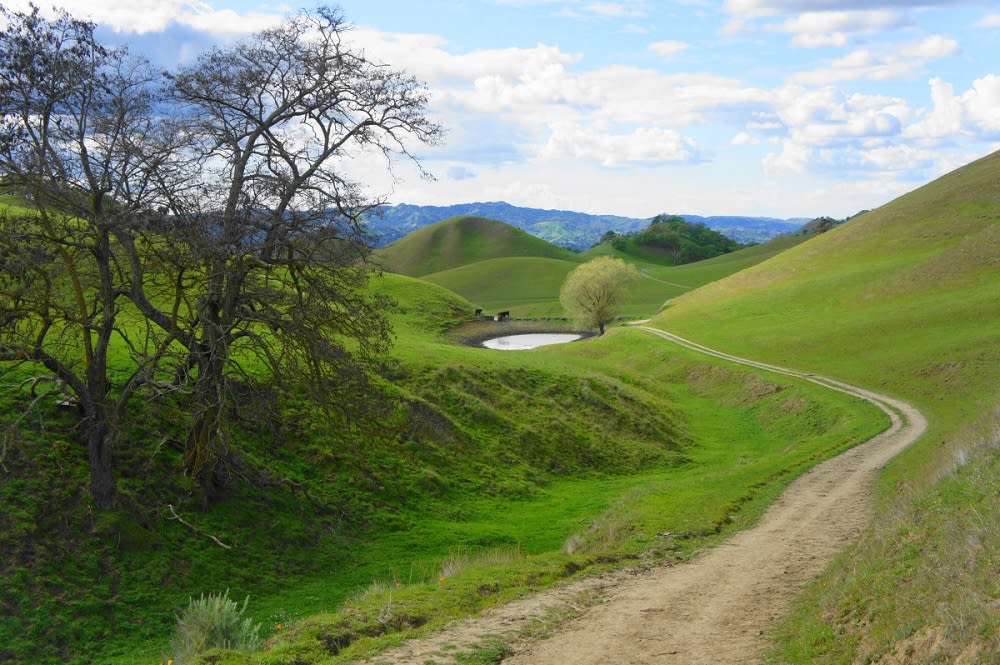 Diablo Foothills Regional Park: Live and Let Hike

Outdoor excursions are plentiful in Alamo, but day-to-day needs are also easily met. Start your day with a toasted bagel with cream cheese and a hot cup of joe from Bagel Street Cafe. Then, head to the Walnut Creek Farmers' Market on Sunday or the Diablo Valley Farmers' Market on Saturday to purchase seasonal produce, flowers, coffee, meat, cheese, and artisanal products. Finally, spend the evening supporting community artistic pursuits by relishing a free outdoor concert at Lesher Center for the Arts and grab some takeout from Hala Sushi on the way home.

Several schools serve the Alamo community, including:
Danville
Danville provides a small-town ambiance with luxury amenities. This neighborhood is family-friendly, offers excellent educational institutions, and features plenty of pricey luxury homes. A friendly community in a spare suburban setting, families and professionals enjoy outdoor recreation, the vibrant downtown area, and the close-knit feel in Danville.

There are many destinations to enjoy the great outdoors in Danville. Sycamore Valley Park features picnic tables, barbecue pits, a kid's playground with a recreational fountain, a bocce court, and more. Sports-loving families adore Osage Station Park for its many tennis courts, baseball diamonds, soccer fields, and pedestrian path. Golf lovers will enjoy exploring Blackhawk Country Club, which boasts two par 4 golf courses and plenty of family-friendly activities. If your preferred type of entertainment is viewing comedy shows, drive-in movies, or live productions, head to the Village Theatre.

A typical day in Danville begins with picking up a morning latte at Starbucks Reserve, grabbing a tasty bistro meal at Danville Harvest, then heading to Danville Square for a multitude of boutiques and services. Danville Square offers a Trader Joe's for weekly groceries, Hand & Stone Massage and Facial Spa for a relaxing retreat, Rakestraw Books, and more. Further support your community by shopping at the many local shops and services of Danville Livery, or stop by the popular Blackhawk Plaza, an open-air shopping center with plenty of restaurants set along a beautifully-landscaped stretch of land.

Several schools serve the Danville community, including:
Dublin
Dublin offers residents a mix of urban and suburban ambiance. Here you can find beautiful parks, a great school district, and two stations on the Bay area's BART system. Many young professionals and families live here, taking advantage of the easy commute system and local amenities.

Bonding with your family outdoors is an easy feat in Dublin. Stagecoach Park is great for solitude and leisure activity, while Emerald Glen Park offers barbecue grills, a skate park, soccer fields, picnic tables, a community rose garden, and more. For a super fun family day of splashing, water sliding, and swimming, head to The Wave, nestled in Emerald Glen Park. The Wave features a swim team, recreational swimming, swim lessons, and a waterpark.



Emerald Glen Park hosts the Dublin Farmers' Market on Thursday evenings. Here you can find an array of terrific vendors selling fresh produce, honey, eggs, specialty goods, and freshly prepared pizza, donuts, falafel, and more. Once you've gotten weekly grocery shopping underway, head to Dublin Heritage Park & Museums to learn about the region's history.

For a multitude of eateries and services, Village Parkway has you covered. Blossom Bee Crepes is a great spot to grab a breakfast crepe or Thai-inspired crepe before heading to the Hacienda Crossing shopping plaza which features an IMAX movie theater.

The Dublin Unified School District serves the community:
Livermore
Livermore is East Bay's slice of Wine Country. There are several shopping malls, beautiful hillside views, a booming downtown, and many award-winning wineries. Residents cherish luxury amenities and pastimes while maintaining an inviting and easygoing air. Livermore is the perfect journey's end for you if you enjoy community involvement and an affluent lifestyle.

There are endless parks and facilities your family can explore in Livermore. Max Baer Park is just one example, offering a barbecue pit, picnic tables, baseball fields, and a dog park, thus, making the park ideal for a fun and all-encompassing family day. May Nissen Park offers a swim center, basketball courts, horseshoe pits, tennis courts, and a sports field.

While your kids have a blast at the parks, relish some adult time at one of the local wineries. Stop by Wente Vineyards, known as the oldest continually-operating and family-owned winery in the nation, for a tasting and some relaxation on their gorgeous grounds. The vineyard is designated as a California Historical Landmark. You're also sure to love Concannon Vineyards, another Livermore institution that's been in the family for four generations. They even have a wine club you can join! Finally, enjoy sampling the wines at the stunning and scenic Murrieta's Well, which offers hiking excursions in addition to tastings, and the Steven Kent Winery, a newer Livermore winery that's grown in popularity thanks to their fabulous cabernet sauvignon.

On Sunday mornings and Thursday evenings, you can purchase all the fresh meat, flowers, bread, olive oil, produce, street eats, and artisanal products you desire at the Livermore Farmers' Market. Downtown Livermore is also home to a plethora of shops, eateries, and services. Trader Joe's, Starbucks, Saigon Cafe, and First Street Alehouse are a few of the many fabulous establishments found here. Livermore offers everything your heart desires for a prosperous life with access to countless recreational ventures.

Livermore Valley Joint Unified School District serves the community:
Pleasanton
When seeking a scenic and friendly community to raise your family, look no further than Pleasanton. Lush hills, excellent schools, an intimate neighborhood vibe, and charming parks studded throughout are the main pulls. In addition, growing families cherish the downtown area and year-round community events.

Saturday mornings are best begun with a trip to the Pleasanton Farmers' Market, where you can stock up fresh produce, bread, dairy, eggs, and more. Once groceries are handled, bring your family out to one of the many community parks. With over 600 acres of undeveloped open space and over 24 miles of trails, spending time outdoors is a treasured pastime. If you're looking for a quiet neighborhood park, Pleasanton has a multitude of those, as well. For a palpable sense of community and golf, dining, luxury amenities, and social events at your fingertips, join The Club at Ruby Hill.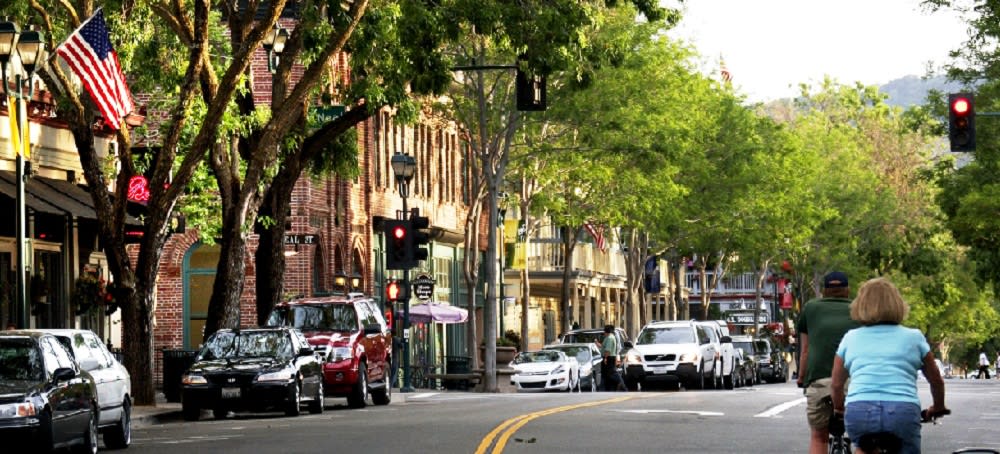 Credit: Downtown Pleasanton

Shopping, entertainment, and services galore, Downtown Pleasanton has it all. Whether you're looking for a scoop of gelato for the kids, a fresh set of poly gel nails, or a serene yoga class, you can find everything you could need downtown. The Museum on Main provides a glimpse into Pleasanton history, while the Firehouse Arts Center adds to modern-day Pleasanton's rich culture and artistic pursuits.

Drop by New York Pizza for a slice with the kids, then get a babysitter so you and your love can relish an exciting evening filled with margaritas and Mexican dishes at Blue Agave Club. Everything you could desire in a fulfilling life is just a stone's throw away in Pleasanton.

Pleasanton Unified School District serves this charming town:
San Ramon
San Ramon is teeming with beautiful parks and trails, stunning estates, and condos. There are several major companies to work for in San Ramon, including Chevron, 24 Hour Fitness, and Bay Area Techworkers. Many families and young professionals are drawn to the work and lifestyle offerings available in San Ramon.

There are 58 parks with various amenities peppered throughout the city, so you'll never have trouble finding one that suits your motives. Central Park is a local treasure, offering a playground, sports fields, a skate park, a community center, and more. Locals and visitors alike enjoy San Ramon's new City Center, which hosts high-end shopping destinations and stellar restaurants like LB Steak and the famed Slanted Door.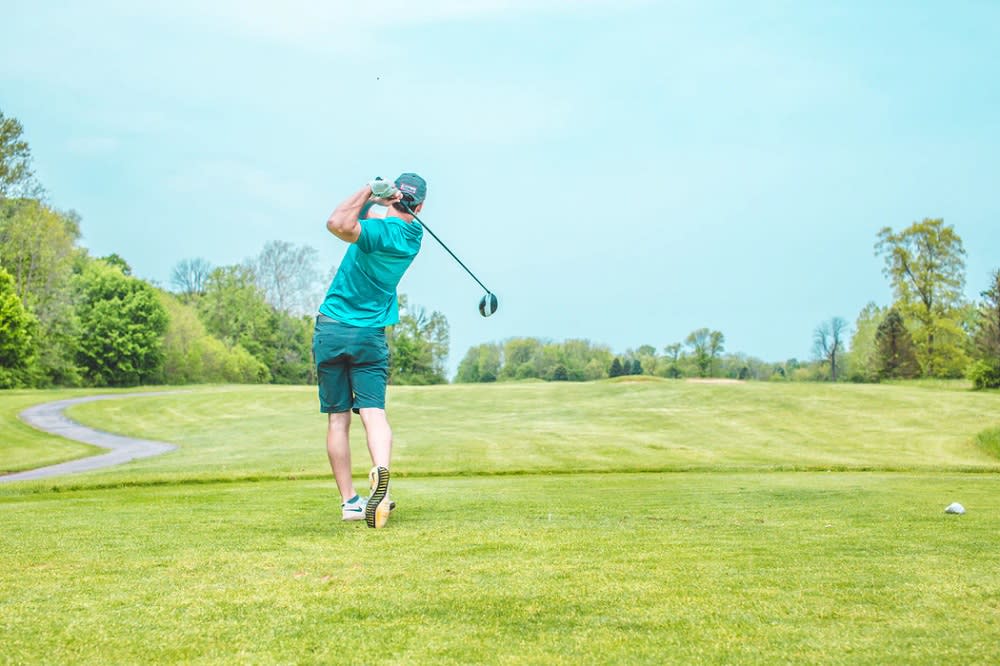 Golf enthusiasts will be delighted knowing there are two different golf courses in San Ramon. Canyon Lakes Golf Course & Brewery is a public course with its own brewery and restaurant. The Bridges Golf Club is one of Norcal's highest-rated courses, features a junior golf program, a practice facility, tournaments, a restaurant, and an elegant event venue. Affluent folks are welcome in San Ramon, doing their weekly grocery runs at Whole Foods Market, spending their free time at one of the golf clubs or parks, and leading a lavish lifestyle.

San Ramon Valley Unified School District serves the community:
Are you ready to call one of these fabulous Easy Bay communities home? Once you're prepared to find San Ramon real estate, homes for sale in Dublin, or property in any of these beautiful neighborhoods, contact Sarina Dhanoa & Associates. Sarina and her esteemed team of real estate experts will surely lead you to the East Bay luxury home you've been envisioning.

*Header Credit: First Republic